Another title I considered for this post was "Yaguchi's Bringing Sexy Back", but then I slapped myself, hid under the computer desk, and cried in shame.
On that happy thought...
I really do love Yaguchi Mari's blog. Tied with Tsuji's, it is easily the most entertaining H!P blog out there. I love that the people of H!O are kind enough to provide us with translations, too. And I'm so glad that they include the large quantities of cellphone pictures that Yaguchi posts with every entry.
While I always enjoy her blog, today translations were posted of a two-day quest that Yaguchi did on Friday and Saturday.
This quest?
To photograph all of the Morning Musume members, past and present, doing her famous Sexy Beam.
You should know Sexy Beam. It was her solo during Koi no Dance Site, a simple "Sexy beeeeeeeaaaaam" while she moved her thumb and index finger away from her chest. Of course, she became famous for it, and it became her "thing". It was mentioned in Joshi Kashimashi Monogatari, in interviews, solos, whatever. Gaki had 'Mayuge beam' from the eyebrow, but Sexy Beam is a Yaguchi-only thing. And no matter how much Kamei may try in concerts, no one can recreate it the same way. It's like Yossie's solo in Kanashimi Twilight or Iida's "Nee waratte?" in Daite Hold on Me.
Got it? Good.
Because I appreciated this so much and loved seeing all of the members do it, I saved the 19 (sadly, she did not get photos of all 25 members) photos and I will now post them here~
It started off with Abe Natsumi. Nacchi really is very cute.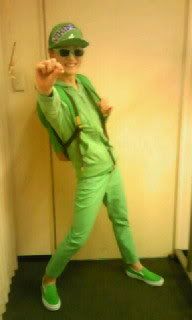 Then Yoshizawa Hitomi. I have no idea what Yossie is wearing, it's strange and very green. Yaguchi, of course, questioned why such a cute girl wears weird things, but it's why we love her.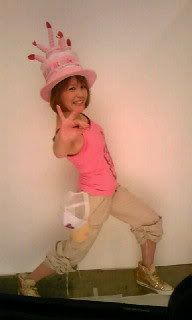 The original leader, Nakazawa Yuko. This was taken backstage at her birthday event, so that explains the hat. Happy 36th, Nakazawa~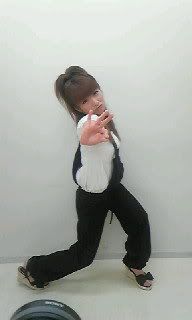 Tsuji Nozomi. I really love her more than I ever have before, and she's gotten so beautiful and I love her blog about her and little Noa. @-@ And whenever I see her, I giggled because of what one person said on H!O about her being a MILF. xD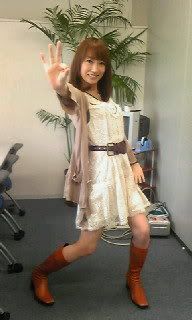 Iida Kaori! *glomps* Iiiiiiiiiiidaaaaaaaaa! I love her so much, so, so, so, SO much. And she's looking beautiful with the new haircut, even if her hair was so amazingly gorgeous at the graduation concert.
Fujimoto Miki~ Just got her temporary license, I hear~
Ogawa Makoto~ She's gotten really skinny. Which is a little weird, because I'm so used to her being chunky.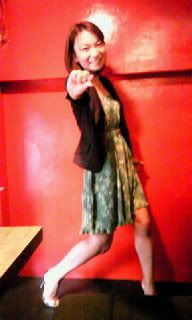 Yasuda Kei. Honestly, I was surprised that she wasn't first, considering she and Yaguchi are incredibly close.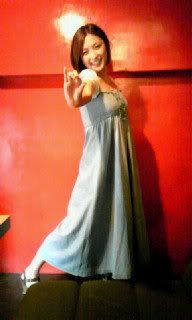 Ishikawa Rika. Her hairstyle is really cute~ This picture kind of reminds me of the Koi no Nukegara PV. xD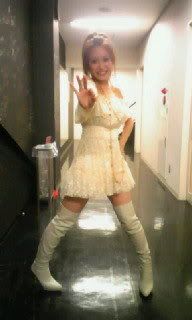 Takahashi Ai. Honestly, what is with that hairstyle? xD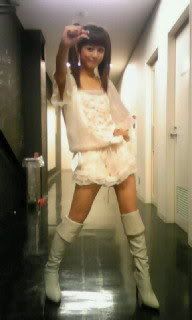 Niigaki Risa. Holy geez, Gaki looks like Mai from c-ute. xD This is the skinniest I've seen her in a really long time, too. I guess she really liked the pigtails after the graduation concert...
Kamei Eri. xD I love how low she got to the ground. It looks so uncomfortable! According to Yaguchi, Kamei said that the distance between her legs and the floor was sexy...?
Michishige Sayumi. Shige beam? Why is she pulling up her skirt with her left hand?
Tanaka Reina taking it a tad bit far. xD I really hate her hair. I'd actually like her weird side ponytail thing.
Kusumi Koharu. Another uncomfortable pose. xD
Mitsui Aika. Her Sexy Beam is from her chin. xD It's a cross between "A~in" and "Sexy beam"
Linlin. Double sexy beam?!
Junjun. Of course, my favorite. I don't know why she's on the floor, but a few people suggested that maybe she was making fun of Yaguchi's height? xD I love the braids. Really do.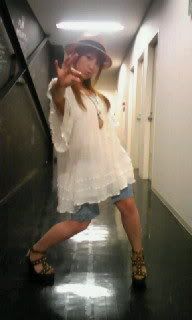 And, of course, the master. ;D Yaguchi herself.