I logged onto the Hello! Store USA site a few weeks ago to find that they had not only restocked, but had put in the Nine Smile merch. I JUMPED on it. xD They were already sold out of the Nine Smile "all" T-shirts, but they still had the individual members.
So I made my very first purchase from the store!
Let me tell you, I was in a good mood for the rest of the day. It felt like I had won something. xD
There was some wait before it was shipped, but it got here in just a few days. I expected as much, as Nevada is right next to California. xD But I thought that my H!P calendars would arrive first, considering they had shipped two weeks before this. (I'm still waiting, by the way. If they don't come Monday, I have to email YesAsia. >.>)
Many of the other bloggers have been posting pictures of their first orders, so I'd like to do the same~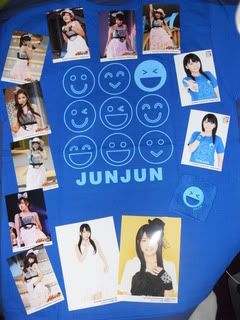 The picture's small, but Blogger doesn't give me much room. xD
As you can see, I ordered Junjun's Nine Smile T-shirt (It's HUGE!), which came with a wristband and two photocards. I also purchased Junjun's Nanchatte Renai set (2L is a great size for a photocard), and the ZYX-α photoset. I loved Zoku-Biyuuden, yes, and it has Junjun and Risako, but it has Shige. And ZYX-α has six people I love, plus Wada Ayaka and Momoko. xD
I'll definitely be ordering from them again. Especially since YesAsia has been crap lately.