I woke up this morning to find that H!O had posted Morning Musume's brand new PV~ I had already seen the preview, so I knew the theme of the PV (it's Shouganai Yume Oibito's evil twiiiin!) but I still wanted to see if it had any surprises~
And since today is my birthday, I was definitely in the mood for a surprise or two. ;D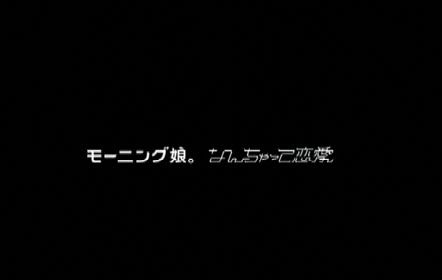 Weird squiggly title... I'm still not sure how Japanese people are able to read these weird fonts. xD Like, I would have no idea that the 'nan' in nanchatte was what it is, and the 'ai' in renai is completely weird. xD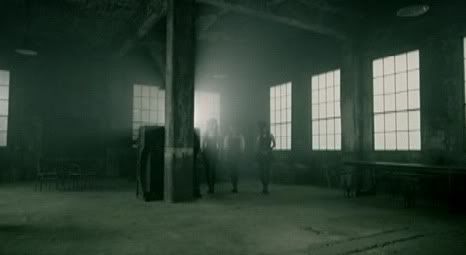 It reminds me of Memory Seishun no Hikari. xD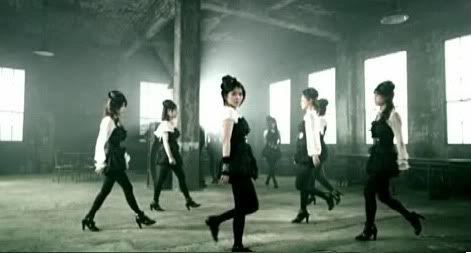 The minions arrive.
Wow, I just noticed that Aika is wearing flats. xD She had foot problems recently, didn't she?
I was very pleased with the number of high quality Junjun eye candy. She SUCKED on the cover, but she's gorgeous in the PV. Especially once she gets that silly hat off.
The dance shot is a little too centric, but I like it when the PV has so many shots you can't tell if it's a good dance or not. ;D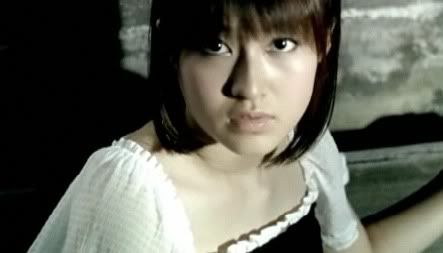 GOD Linlin has gotten pretty. It was like Tsunku called her to his throne room, looked down at her from his high throne of wota with his Elder Club harem, and announced that now that she is getting a more noticeable role in H!P and will probably be inheriting the group vocally from 5th gen, she must stop being a Kemeko character and start looking cute.
I was disappointed that the costumes were the same as on the cover. What happened to having a completely different outfit on the cover than in the music video? It stopped somewhere around Resonant Blue.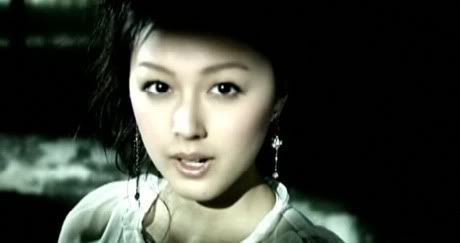 This PV is all about the eyes. Or, at least, that's the body part I notice at 9:30 in the morning.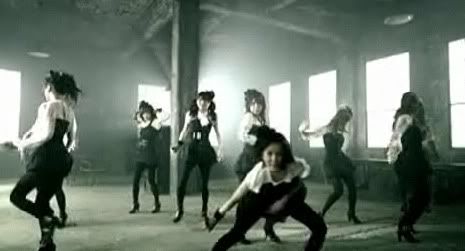 Aaaand the rap starts. =D It's pretty Aika/Koha heavy.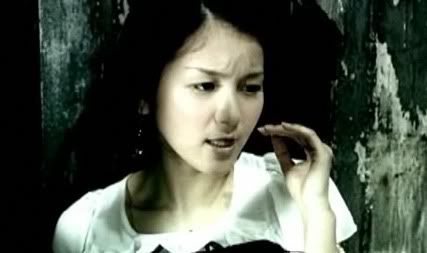 Aika did the same exact head move in SYO, didn't she? It's like her trademark.
Welcome to the lair of the Shige~
This looks so photoshopped for some reason. xD Just the lighting and everything.
Shadow-y Kame takes some getting used to...
Dammit, Junjun, why must you be so beautiful?
Damsel in distress Takahashi.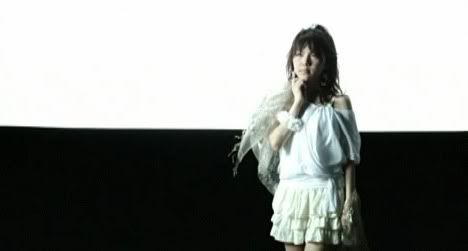 This shot was a pleasant surprise. I like the flow-y white outfits and the contrast between black and white.
Koha is not amused.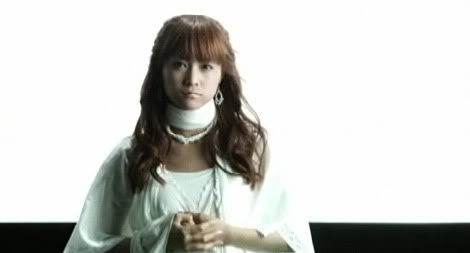 Why do I always think that Kame looks like a young housewife with this hair? xD Now she looks like a RICH young housewife. xD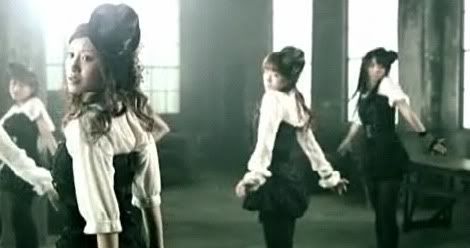 Spin~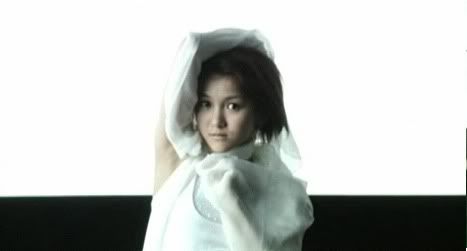 Um... I'm not sure what I think about this pose... And I'm not sure Aika knows either.
How come I can NEVER get a flattering shot of Gaki?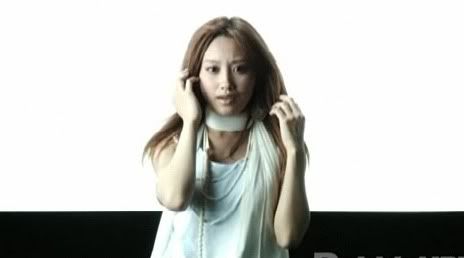 Bangs, please.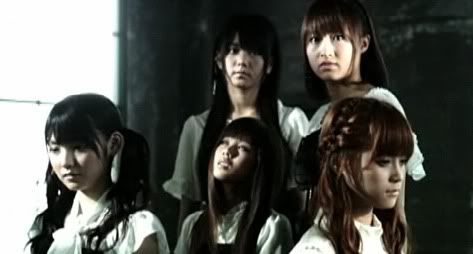 I paused the video, and this is what I got. xD Gaki looks like she just passed out on the pandas, and Linlin is giving us a great 'What do I do?!' expression. xDD
Aika. Non-armpit version.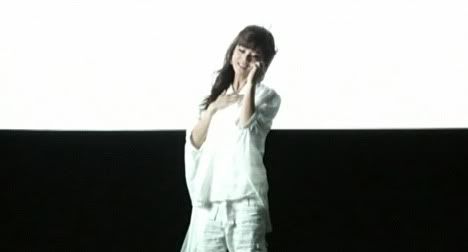 Betteerrr...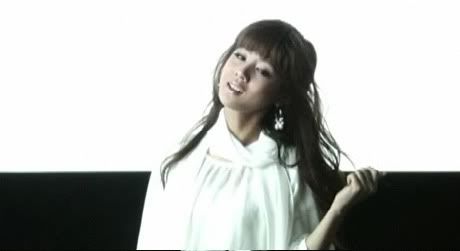 Betteeeerrrrr....
And we're back to no. xD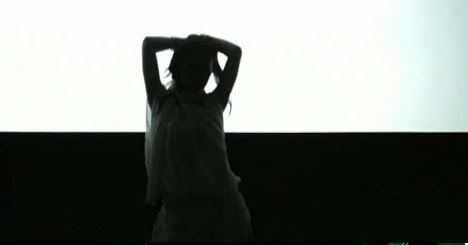 GUESS THAT POKEMON!
Junjun owns this PV in terms of beautiful window shots. =D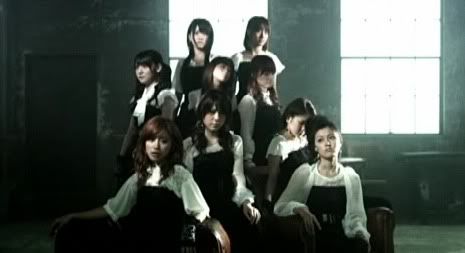 That's a big couch. Oh, and look, Gaki's still out.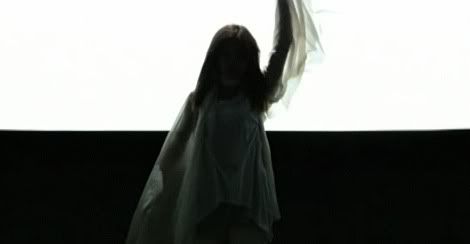 It's Tettekette-mon! =D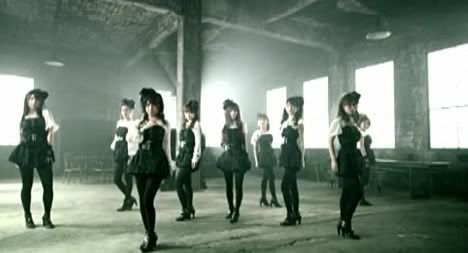 And it ends.