As far as I know, I'm the first one to post her rankings. If I'm wrong, then International Wota isn't doing its job. ;D Or the person who did it first is just as obscure and unknown as I am.
I last posted my ranking back in... July? Sometime in the summer. Before AX, so it must have been spring, even. Anyway, I posted it at an unorthodox time, but now I'm trying to back on track.
My favorites have changed a lot. Seeing Morning Musume live and in person really caused me to fall in love with some members. And of course, Koha graduating completely changed things. Ninth place became eighth, for example.
Anyway, here is my ranking, along with my reasons, and of course, the obligatory picspam.
#8 - Michishige Sayumi
I have never been a fan of Shige. I was never a huge fan of the sixth generation when I first joined the fandom. They were quiet (except for Miki), unwilling (except for Miki), and forgettable (except for Miki). I grew to love Kame and tolerate Tanaka, but... Shige. Oh, Shige. I am not a man nor a lesbian, so the cute card doesn't work on me. Sure, I love cuties. But a "hot" (apparently) photobook isn't going to win me over. Frankly, I don't think she's that cute. Her voice sounds like a cat in a blender, and I can't stand how vain she appears. Everyone says she's really smart, but I don't see it. I see her trying to sound smart, and failing. I have never felt warm and friendly towards her, even when she was signing my DVD case (I will be thankful that she did it, but I'm not going to like her for it). However, number seven is really giving her a run for her money...
#7 - Mitsui Aika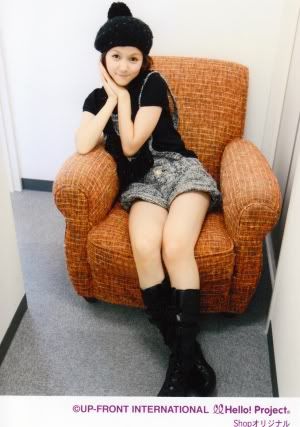 Green is the new black and Aika is the new Koha. As Koha's popularity grew, Aika's fan decreased. Why? Because she's fucking terrifying. The honeymoon is over. We gave her a few years to show her stuff, to grow, to become a valuable member of Morning Musume. She didn't deliver. She's the EXACT SAME as she was two, three years ago. She just got an unfortunately maintained haircut. "Oh, but she hasn't gotten any lines!" I've said this before. You don't need lines to improve. The pandas don't get any lines, and they've improved. You need to focus and be motivated and work hard BEHIND the scenes. They still get vocal lessons. You need to earn those lines.
I dislike Aika more and more every time I see her. She's not charming, she can't sing, and her personality is nasty. She's way too competitive to be a real group player and is way too aggressive. She's not a member of Morning Musume, she's just some girl who's there.
#6 - Tanaka Reina
(I love this picture too much not to use it. So what if she's sharing it.)
I have a love-hate relationship with Tanaka. As a person, I think she's cool. She's interesting enough, entertaining enough... Hell, when she's with Junjun she's downright hilarious. Her personality is pulled out around other people, and that's when I like her. I like her when she's acting grossed by Junjun during MC concerts. I like her when she's playing rock-paper-scissors with fanboys at panels. I DON'T like her, however, when she opens her mouth and sings. As a soloist, fine. But I have the same problem with her that I have with Airi and Momoko. Out of your group, go ahead, take lines. But when they're in their respective group, I can't stand to hear them sing.
# 5 - Takahashi Ai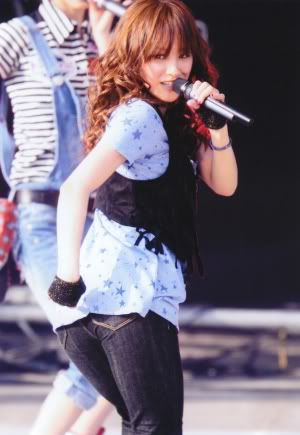 I love this photo, by the way. I would make it my desktop wallpaper if I could.
Takahashi has had a good 2009. She became very personality-less back in 2008, but I think it's because she became leader. All of a sudden she had to be an authoritative figure for her peers and be a respectable role model for two new members who barely spoke Japanese. She didn't have the guide of Yossie or Fujimoto to help her. Hell, she hadn't even been sub-leader for an entire month before she was promoted. That's why, I think, her personality flew away for a while. But it's coming back! She's growing more comfortable in her role, more comfortable as the oldest. Her personality has always been my biggest complaint, so now that she's more relaxed, I like her more. Besides, Cosmos will forever be one of my favorite songs.
#4 - Kamei Eri
I struggled to decide where Kame should go, and I'm fairly content with this decision. I love Kame. She has really grown up and shown her talent this past year, and I love that she's become one of the leads in singles. Because her awesome dance skills and sweet, clear, straight-forward vocals are what we need. Also, we need another Hatachi-level photobook from her soon.
#3 - Niigaki Risa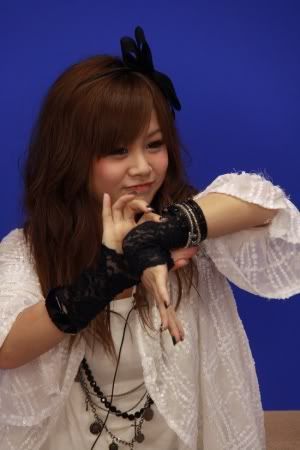 I couldn't decide whether to put Gaki or Kame here, and I'll tell you why Gaki won. Her looks. I'm serious. If she still had that weird curly 2008 hairstyle, or any of the other hairstyles before that, she would be lower. But her hair! Her haiiir! She is easily one of the most beautiful people I have ever seen. And she's so small! Takahashi is always thought of as the small one, but Gaki is tiny herself.
Gaki has always been a powerhouse vocalist, and her amazing voice has contributed a lot to H!P, but I feel like she's been faltering lately. Her voice just isn't impressing me like it was before. But that's okay, because she's human. Also, she is the sweetest person ever. I was really impressed at AX. She was energetic and sociable and goofy, but not too much. The perfect level and mixture. I remember being incredibly amazed by that. I love her. <3
#2 - Linlin
I never really paid much attention to Linlin. She was Junjun's less interesting half. She was too goofy, too energetic, too out-there. But I remember randomly clicking though YouTube and stumbling upon a fan rip of her solo at the Platinum 9 Disco concert... The 'Aozora' one. I was floored. She exploded into this amazing singer, and I would never look at her the same way. And then at AX, when we were getting autographs, she would light up at every single person and wave. One of the guys we were hanging out with, the one in front of me, had a conversation with her and Junjun in Chinese, and she was just so animated. She had probably talked to a lot of people in Chinese over the weekend, and yet she acted like he was the first one. And over time, I really fell for her. The girl is very photogenic you know, and has become very pretty.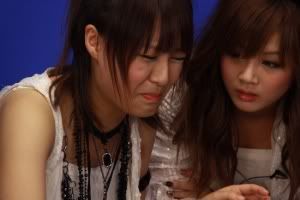 #1 - Junjun
This should come as no surprise. I love Junjun. She's pretty and cute and funny and witty and sarcastic... And she has really tried hard to get here. Her singing has really improved and she's working to get better. She's truly doing her best. Ah ha ha ha, I remember, at AX, I shook her hand, and I blanked out and forgot to let go. xD She just kind of looked at me for a moment before the next person came over. Best moment of my life, right there.
And as always, here is a brief Junjun picspam for you all.