Say it ain't so!
Recently Tsunku announced that he would be recreating our beloved Mini Moni!
For those of you who don't know, Mini Moni was a group created by Morning Musume generation 2 member Yaguchi Mari. She recruited two fourth gen members, Tsuji Nozomi and Kago Ai and later Coconuts Musume member Mika Todd was odd. It was a group known for its cute, infectious, often child-like songs, and its one rule: all members must be 4'11" or shorter.
Here is their debut single:
Jankenpyon, AKA, best random song in the world. xD
Here is Mini Moni a few years later, after Takahashi Ai replaced Yaguchi Mari.
I really like this song, too. (Crazy About You)
Here is some Mini Moni/Mini Moni members video spamming. ;D
Yaguchi Mari's solo single
Kago Ai's soon-to-be released single.
Tsuji Nozomi's Furusato
Mika Todd (I love, love, love Mika more than ANYTHING)

Link, because I can't embed it~
Yes.
Anywho, Tsunku announced that there will be a whole new cast, starting with...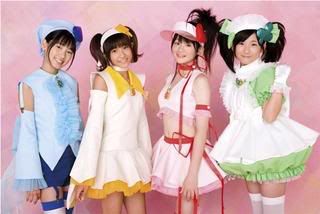 THAT'S RIGHT! The green one!
Fukuda Kanon will be the first member.
Ehh... Fukuda.
She is fourteen years old, and her favorite animal is the llama. Up until recently she was in H!P Eggs, and then switched over to Shugo Chara! Eggs. She is 142 cm, so she fits the rules.
Personally, I think Fukuda is boring. She's cute, yes, but.... She just doesn't have the funny thing going on that made Mini Moni awesome.
If I could have a perfect Mini Moni, it would include:
Linlin- I know she's not short enough. She's 5'2". But still. She is complete Mini Moni material, and she can really sing~
Don't believe me?
Maasa- Okay, she's waaaay too tall. But she's also awesome.
Chinami- She's short enough. And she's really cute. =D
And someone else.... Maybe Erika. xD I dunno.
I'm not too excited about Kanon being a member of Mini Moni, but it will be interesting to see how it turns out....