So, as I was rolling back and forth in my chair listening to the Ichii Sayaka and Nakazawa Yuko Folk Songs album, I realized something... I have not yet posted my ranking of Morning Musume...!
Most bloggers, if not all of them, post their rankings at the beginning of the year, so they know that a full year has passed since they last sat down and thought about which members they like and why.
But screw that.
I realized that my preference could change drastically between now and December/January. I could end up going to the concert and fall in love with members I never thought I'd EVER fall in love with.
So I'll post it now.
It hasn't changed since the start of this year, so think of it as a belated ranking. ;D
9. Michishige Sayumi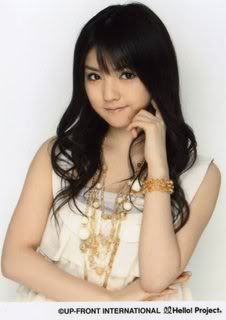 Okay, this is an obvious one. I think I've made it quite clear in past posts that I cannot stand Shige. Yes, she's easily one of the cutest members of Morning Musume, but sheer cuteness cannot make up for personality. At least, not in my book. I hate, hate, HATE how she flaunts her cuteness, and how she always takes the "I'm the cutest" route. Her personality turns me off, definitely. And while I find her speaking voice interesting, she can't sing to save her life. People often compare her to Ishikawa as both are not strong singers and they were instead given speaking lines to make up for it. But at least Ishikawa was decent, and worked hard to make her lines sound good. Shige always sounds screechy, with the exception of maybe Shouganai Yume Oibito. But I'm not here to bash Shige. I just don't like her. She's probably the only member of H!P I don't like.
8. Tanaka Reina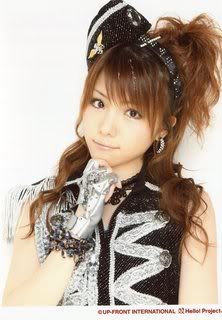 Tanaka used to be my least favorite until I saw a video of her playing one of those UFO Catcher games, and crying when she won, even though she had been confident she would. That won me over, so I can't hate her... But I can't love her, either. She is just kinda... there. She doesn't make a big enough impression on me personality wise, and I don't really care for her voice very much. I don't think that she should have the lead so much in songs, but at least she puts in an effort. Her photobooks are cool, though. I like that she has the punkish style. Her new hairstyle makes her head look too big for some reason... Like her hair deflated.
7. Takahashi Ai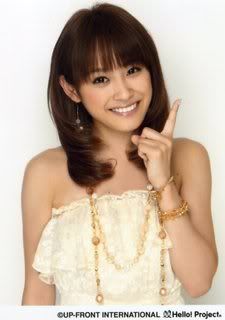 Leader, where has your personality gone? Takahashi can be summed up in one word: professional. She's probably the most work-oriented person in the group, and I respect her for that. But that's not enough for me to really like her. She needs to have a personality, some quirk that makes me look forward to her interviews or MCs or general involvement. But her voice makes up for it, and she really has gotten beautiful with her hair at this length.
6. Mitsui Aika
I've gotten in a lot of arguments over this choice. xD Mittsi is cute. She's cute. She's like a puppy. She's bubbly and energetic and is just cute. But she's still in those crucial years, where we NEED to see improvement. This is the time when the idols become stronger singers, better dancers, and really start to become more beautiful. But let's admit it. Aika blew us all away when she debuted in Egao YES Nude. This little girl, only thirteen at the time, had a huge voice and A LOT of promise. If she could develop her talents, she could easily be one of the strongest voices of Morning Musume. But she was never all that popular, and once the pandas joined, she was overshadowed by THEIR potential. All of the focus was put on Linlin and Junjun, and Mittsi just coasted by. Her solo on Platinum 9 Disc was awful, I have to say, and even though she tends to sound a bit better live, the Resonant Live version wasn't much better. She just doesn't stand out to me. Vocally and through her stage presence, I ALWAYS forget that she's in the group.
5. Kusumi Koharu
I really like Koha. Personality-wise, she's a very entertaining person. She acts her age when she's in Morning Musume. She's funny and charming, and I really, really like her. She doesn't try too hard to be cute, or sexy, or anything that she's not. She came off a little strong when she first joined, but she is way more relaxed now. However, Kirarin was a huge mistake for her. When she first joined, she actually had a fairly decent voice, but I think it was too much for her to separate her natural voice from her Kirarin voice, so it just became one thing... But there have been moments in albums and concerts where she has a very pretty voice. I hope to hear more of that.
(BTW, she reminds me SO MUCH of my home-stay sister when I went to Japan for some reason. xD)
4. Kamei Eri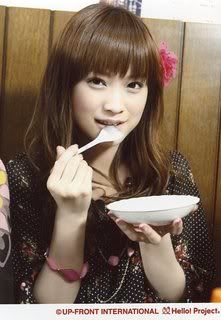 I never paid much attention to Kame before this year, mainly because she was on the shy side and never stood out that much. But all of a sudden, this amazingly gorgeous woman stepped out of the crowd, and I fell in love with her. Her voice is soft, yet clear, and never has any sharp edges or rough notes. I really love it. She's also a very cute and funny person, and I enjoy watching her. She also has a cat mouth that I love. x3
3. Linlin
Ah, Linlin. You're so obnoxious. xD It's true, though. She's a little too hyper and laugh-y. Sometimes you just want her to calm down and be a normal human for once! But I like her. She's funny. =D She would have been lower on my list, but then I heard her performance of Aozora-blah-blah-blah-too-long-to-remember-or-type during their most recent concert, I was hooked. She is an amazing singer, and will definitely hold the group up once Takahashi graduates. She got a part in a movie, you know. Good for her! She's really talented, and she's steadily getting better.
2. Niigaki Risa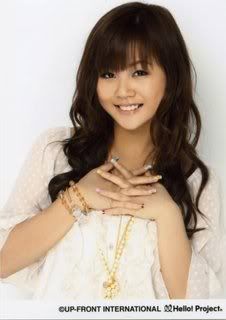 What isn't there to love about Gaki? She's beautiful and graceful, funny and cute, and her reactions.... *wipes away tear* She has a power-house voice, and is, in my opinion, the most beautiful member of Morning Musume at the moment, or even EVAR. I love her to pieces, and I hope to see her as leader someday.... (Please, please, Tsunku, don't graduate her at the same time as Takahashi!)
Because she is runner-up, here is some mini-pic spamming for you. =D
Gaki is blinding. =O
I want to eat okonomiyaki with Gaki-sama. =D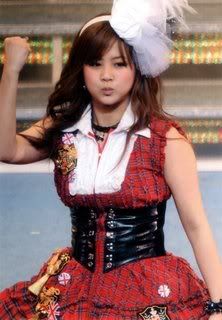 Either her dress is too tight or she's really annoyed with something. Either way, her face is priceless. xD
Is it just me, or has Gaki become like Saitou Hitomi, sorta chunky but really sexy at the same time?
1. Junjun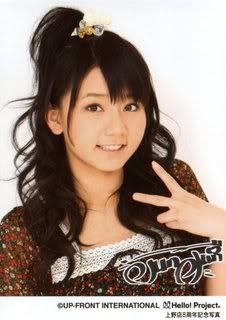 This should come as no surprise. I am madly in love with Junjun. I really am. She's adorable, way too cute for a twenty-one year old, and she's so funny! She holds the bulk of the personality of Morning Musume right now. She's gotten over the language barrier beautifully, and even Tsunku remarked that she "speaks Japanese like a pro". Whatever that means. I don't think you can be a professional Japanese-speaker. Unless you're an interpreter. But I digress.
I cannot sum up Junjun's awesomeness in just words, so here is the customary picspam for you all~
The Platinum 9 photoset is probably my favorite so far. That butterfly ring is really pretty.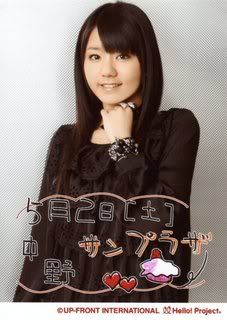 Her deformed cupcake is so cute!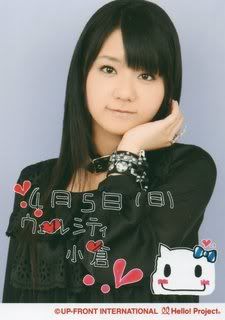 I hope they never cut her hair. =D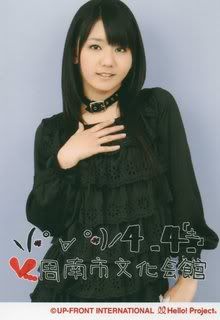 She's gotten really good at her photos, too. She used to look awkward in all of them.
I love these costumes, and Junjun looks great. =D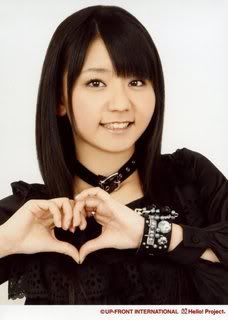 YAYZ.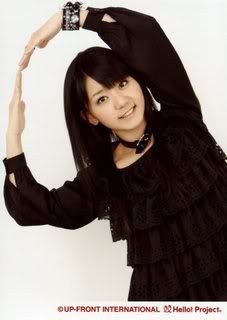 I don't know what this is, but it certainly is cute.
The Platinum 9 Disc-o ball. ;D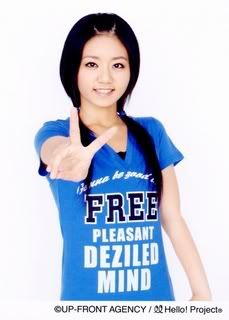 Junjun sporting some lovely Engrish. ;D
Junjun avatar. She was a red panda on Haromono@. That's my favorite animal. =D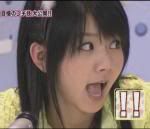 Le gasp.
The panda suit thing was random and had NOTHING to do with gourmet bentos, but it was awesomely cute. =D Those episodes of Yorosen were amazing.