I'm continuing my self-gratifying picspam. ;D All while working on my English homework~
Takahashi Ai (ai):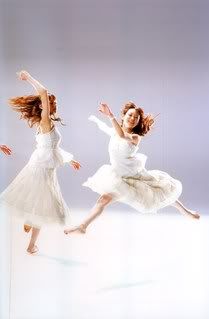 I know Takahashi was trained in ballet and all, but it still looks funny.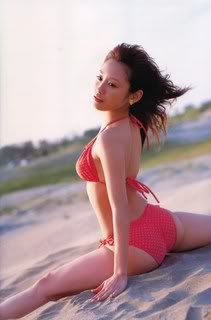 This looks so freakishly uncomfortable.
Excuse me, but LEGS.
Iida Kaori (Kaori Kaori Kaori):
Alien leg.
She looks like Yamada from Honey and Clover. xD I thought that when I first saw the movie, too.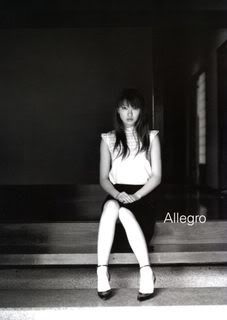 This is the most beautiful shot in the book.
I like megane Iida. =D
Ohhh, I love it.
Niigaki Risa (Isshun):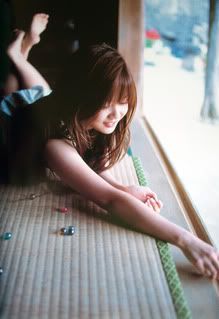 I love love love Gaki's hair.
Skipping~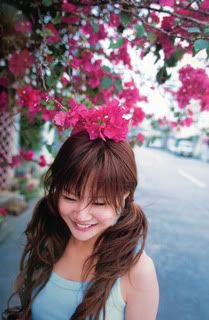 Oh noes, she's being attacked by flowers~
I want. D=
Tanaka Reina (Very Reina):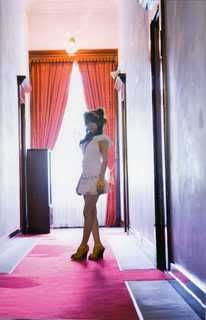 Tanaka always gets the coolest outfits. Especially in this book.
Go Go Berryz Kamen?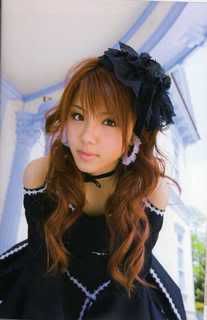 Lacy earrings FTW?
Those are some ugly shoes.
The punkish styles really suit her.
Ooh, the fanservice.
That's quite the epic dress.
Morning Musume (Bromides):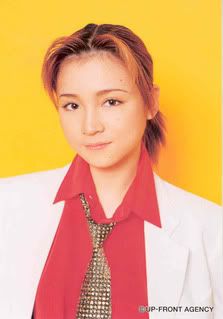 Mr. Moonlight Yossie = love
That's something you never see anymore: Yossie with pigtails.
I'm actually quite a fan of Rika's Pippi braids.
I love how not-photogenic Yossie was.... (and still sort of is, if you think about it) Her head looks really big, too. xD
....And how did Gaki grow up to be so beautiful again? xD
[And speaking of gorgeous Gaki]
Niigaki Risa (Happy Girl):
[Warning, this is probably my favorite photobook evar, so expect lots of fangirl drooling.]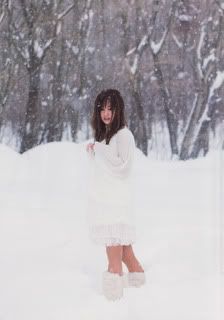 I love how she almost completely blends in with the snow.
Gaki-sama, suddenly feeling incredibly powerful... "With this, I could become leader...!"
Noooo. Niigaki would never do that.... ;D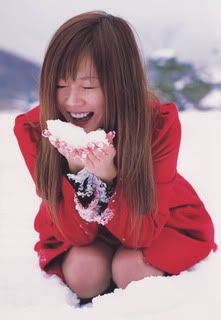 Either Gaki was feeling hungry or that pile of snow has one great sense of humor.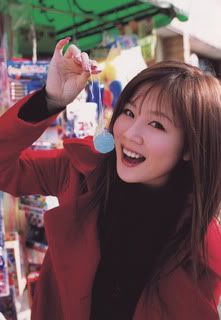 Om nom nom?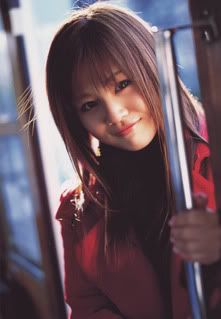 She's so very cute. x3 Her feelers, too. ;D
(Those are some impressive strands of hair that are trying to get away.)
I love how natural this shot is.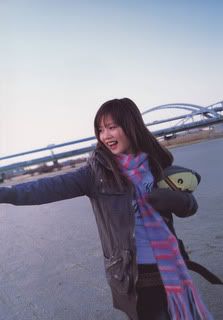 Ikou!
Dental care is very important for Gaki. She doesn't want to end up like Airi.
Surprised by something.
Gaki has almost eaten a lot of things in this book.
Mm-mm, nothing like Risa's Homemade Cornflake Cookies.
I want her nails.
I love it when they reuse sets. =3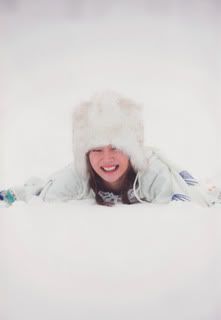 Fwump.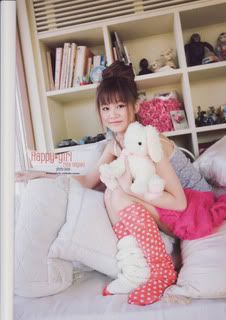 God, I love it.