Goto Maki and I have never been the best of friends.
By the time I got into Morning Musume, she was a soloist. As much as I liked her, I never identified her as a member of Morning Musume, but a soloist who simply made her start in the group. She was always too big for Hello! Project. But her lovely smile and talent brightened up many a concert, music video, and TV interview.
But I'm not here to talk about the past. No, I'm here to talk about the current Goto Maki, the Goto Maki who blew us all away her amazing avex debut.
Most people who know this Goto Maki can agree that Koda Kumi has some major competition.
Let's look at some videos, shall we?
(Commercials, courtesy of avex itself. I can't emb PVs.)
Here we have her debut, Lady-Rise. Specifically designed to let the wota that she's no longer the idol they once adored, the PV also allows a few music fans to get whacked in the face with that pink-and-black cane of hers--She's no longer a Hello! Project girl.
I think the cutting-the-hair is a classy way to tell Japan that her image is changing, that she will no longer be the uncomfortably sexy soloist, the adult of Hello! Project. She now will be the incredibly, almost mind-blowingly, sexy singer who will give Leah Dizon and Koda Kumi a run for their money.
Then there was Fly Away. I actually love this song to death, I think it has a really cool beat. But that's not important. The important thing is the video. It's beautiful, as artistic as Goto's H!P photobooks, and oh-so-wrong.
Really, whenever I watch this I remember what my friend Colleen said about Koda Kumi's PVs being like softcore porn. Now, I wouldn't know what that looks like, but there's something about Goto blindfolded on a bed that just screams "YOU'RE TOO YOUNG TO BE WATCHING THIS".
But maybe it's my conscience.
Goto Maki is an interesting woman.
I don't really know what to do about her.
She's fashionable.
She lulls you into a false sense of calm with her sweet, innocent smile.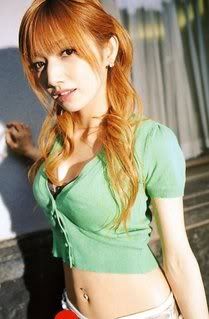 And then BAM! Her amazing figure is revealed.
Her photobooks are amazingly beautiful. I suggest you check some of them out. The earlier ones are sweet and innocent, but eventually they transform into collections of shots that are simply artistic. She really is an impressive model.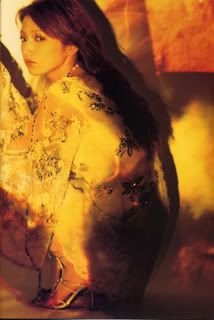 One of my favorites.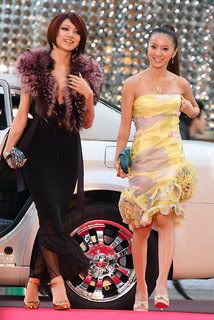 With her lovely avex haircut and glamorous attire, she manages to make her senior performers look like amateurs, especially compared to the professional air she has.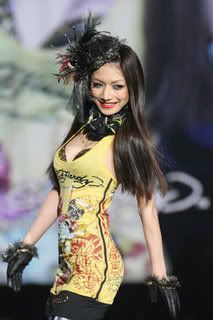 ...But then she shows up in something like this.
But that's not why I'm here. I'm writing this entry in order to discuss her newest single. It's another collaboration, this time tastefully (?) titled "with..."
Compared to the other SWEET BLACK feat. MAKI GOTO releases, this is like the quiet bookworm in a family of gorgeous cheerleaders. It's reminiscent of what she used to sing back in H!P, but with a... may I say, Ito Yuna feel to it?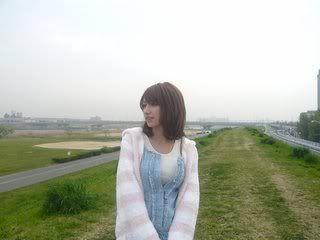 Apparently she is letting her hair grow out, but I'm not entirely sure if this is a good look for her. I like her with the long, curled hair, or the short hair. Not somewhere in the middle.
The PV is simple, soft, and not too forceful. It's a soft, gentle, healing touch for all of those who passed out from nosebleeds after her past two PVs.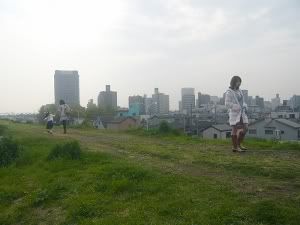 It features several shots, of Goto recording the song, Goto walking down a road... It looks like there's another of two girls I don't recognize... They look like Office Ladies. xD
Goto looks really young here. She took a more mature approach to her appearance, but this clean, soft look is VERY H!P.
The PV is also very soft. It's like a mixture between Morning Musume's Aruiteru and Otsuka Ai's Ai.
At least, that's what I think.